#CocktailConversations with Paolo Molinaro, Hutong's new Assistant Bar Manager
Posted on August 22, 2017
Meet our new Assistant Bar Manager Paolo Molinaro and learn more about him including where the inspiration for Hutong's cocktail menu comes from to his favourite bars in London.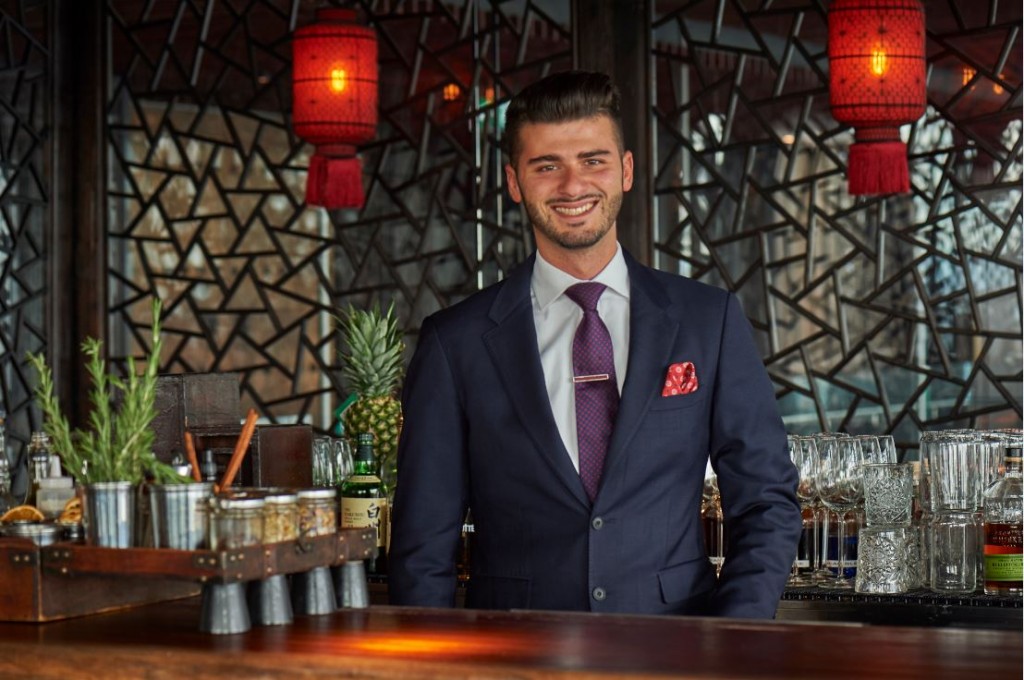 What drew you into mixology? When I was 16 in my hometown of Milan, I started organising private parties for my friends and coming up with cocktails for their events; it was something I loved doing so I took a few courses to learn more about mixology and I've been bartending ever since. London is also one of the best cities in the world to be working in, it offers so much opportunity for creativity.
Have you had a mentor in your career? Who or what has inspired you the most? When I moved to London in 2013, I got the chance to work behind the bar with Andriy Savko when I was working at Shoreditch House. His style of service and knowledge of the industry helped to grow my passion.
What spirits and ingredients are you most drawn to when coming up with cocktails? It depends on what type of drinks the guest enjoys and also on the ingredients available that season. For instance, in the summer, I love more adventurous tiki cocktails and enjoy creating refreshing, rum-based drinks using ingredients that balance sweet and bitter flavours. The UK has an amazing selection of seasonal ingredients to choose from which also inspires the cocktails I create.
Where did the inspiration behind Hutong's menu of cocktails come from? We use a lot of fiery spices and unique ingredients in our cocktails that the kitchen use in the dishes at Hutong. Right now, you'll find cocktails on our menu that have a sweet, citrus taste that balances bitter or spicy flavours. Chinese spices are unusual ingredients to use in cocktails and I enjoy the challenge that comes with creating drinks that incorporate them.
Tell us about your favourite drink on Hutong's cocktail menu and why guests will enjoy it. I enjoy creating cocktails that will pair nicely with our signature dishes. For instance, our Old Peking Fashioned uses Hennessy cognac infused with Peking duck meat which we prepare and cook in house; it's a smooth drink with sweet flavours, a popular drink with guests that pairs nicely with our Roasted Peking duck.
What are some of your favourite places to drink in London? I go out a lot in East London and have previously worked in Shoreditch so enjoy a lot of the speakeasy bars there; NOLA, Oriole and Nightjar are some of my favourite bars in London.
What's the best piece of advice you've ever gotten? There's a saying in Italian, non fare il passo più lungo della gamba it doesn't translate perfectly to English, but essentially means don't run too fast; take your time and don't try to make your step longer than your leg.
What is your guilty pleasure drink? Fernet-branca, it's an Italian type of amaro and one of the most bitter spirits. I love it because it reminds me of my grandfather, who drank it and introduced me to it.
If you weren't working in mixology, what would you be doing? I studied biology in school and have been scuba diving for years now, I've always loved the idea of becoming a Marine Biologist!