Meet the Team: Head Sommelier Francisco Nevot
Posted on October 23, 2015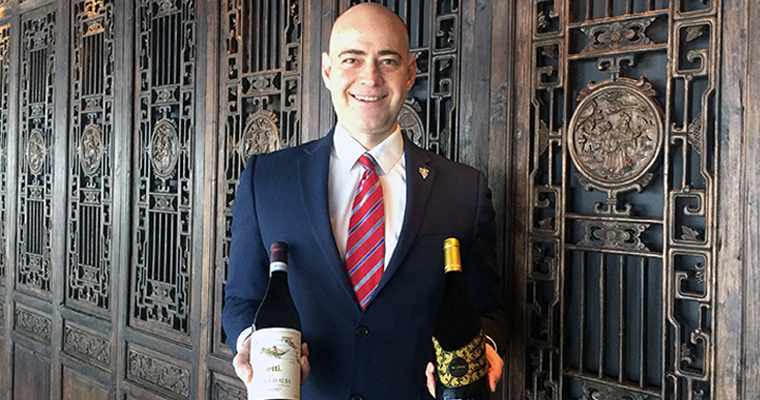 We took a few moments to catch up with Head Sommelier Francisco Nevot on why he loves working in hospitality and his wine tips for all our guests in Hutong.
What inspired you to work in the industry?
It's always been in my family. My aunt had a hotel in Spain where I grew up which had a lovely restaurant. I helped out when I was younger and worked there in the summers when I was at university.
How did you become a sommelier? 
I started my career as a commis waiter at Galvin. I met a Spanish sommelier there who introduced me to the world of wine. He spent a lot of time with me, teaching me and letting me taste a lot of new wines I was not familiar with. I decided I wanted to be a sommelier and studied for my WSET courses. When I qualified I moved to Bluebird as a commis sommelier, I got promoted to sommelier quite quickly and really enjoyed my time there. I really developed when I worked at China Tang, there was an amazing sommelier team and my passion for wine just grew.
What do you enjoy most about working at Hutong? 
Every day I when I recommend a wine to a guest that isn't perhaps typical or something they're familiar with, then they fall in love with it and want to know where they can buy it and they take pictures of the label so they can remember it. That gives me a lot of satisfaction. A lot of our wines are not available to buy in stores, but I would recommend any-one to really talk to the staff in wine shops, there are so many different styles to try, be open minded and enjoy the discovery!
What's your personal favourite wine and why?
I don't actually have a favourite. It really depends on the meal, for me the food has to come first, then the wine. If I had to choose only one country it would probably be Italy, there are so many native grapes and so many different styles that you can't find anywhere else. The most important thing though is the company, I would rather drink a sub-standard wine with Claudia Schiffer than an exquisite one with George Bush!
Can you give us some recommendations from the Hutong list? 
The '12 Lunas, Chardonnay-Gewurzt, Somontano' is a blend of Chadonnay and Gewurztraminer from Somontano, (north eastern Spain,) that is refreshing and tropical, it goes very well with spicy dishes, it's particularly good with our signature Red Lantern soft shell crab. The 'Riesling, Heissenberg, Ostertag' has a ripe fruitiness, it's very mineral and complex with a long finish, it's pairs perfectly with fish dishes such as our Grouper fillet with black bean sauce. Moving to reds, the 'Barbera D'Alba, Tre Vigna, Vietti' is from one of my favourite regions – Piedmont in Italy, the red and black cherry aromas with hints of violet and vanilla are very smooth and complement our aromatic Deboned lamb ribs. Finally, the 'Pinot Noir, Moorooduc Estate, Mornington Peninsula' from Australia is the best match with our succulent Whole roasted Peking duck.
What are your predictions for 2016? Which wines do you think we'll be drinking more of? 
I really think we'll see more wines coming from China, I particularly like the ones coming from the Ningxia region, we have the  Tasya's Reserve, Cabernet, Grace vineyard  from there on the list at the moment, but I'm excited to introduce a dedicated Chinese section very soon.