Recipe: Wilted spinach with Sichuan ginger sauce
Posted on October 9, 2015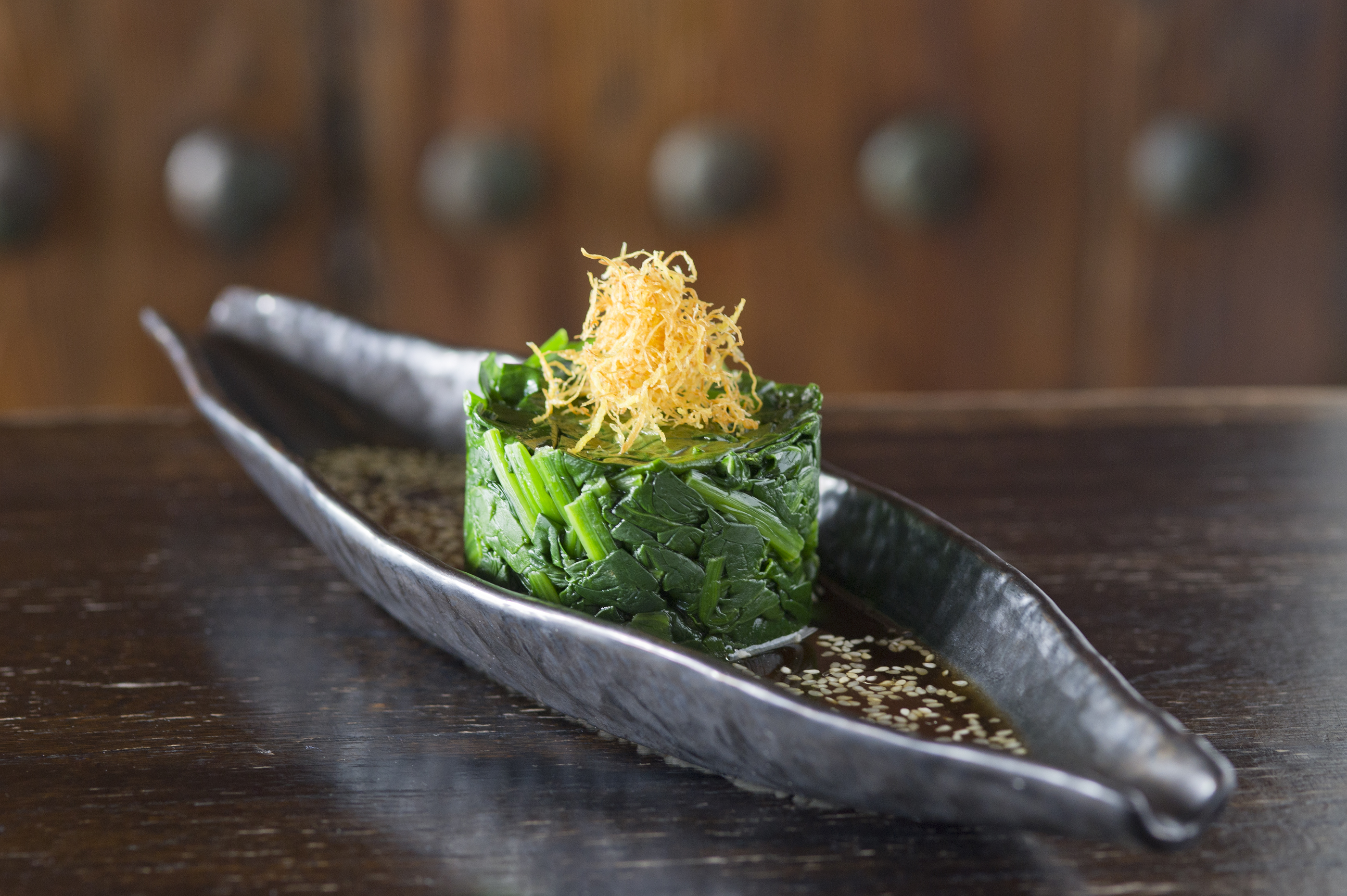 Although of course the best way to enjoy our cuisine is by joining us for lunch or dinner in the restaurant, we know that sometimes guests like to try replicating our recipes at home. Many of the techniques used in our Sichuanese and northern Chinese dishes are very specialised, but some are less complicated and to that end chef Bing Luo has kindly shared this recipe for one of our most popular appetisers, Wilted spinach with Sichuan ginger sauce and toasted sesame.
To make the dish at home you will need:
500g Spinach
10ml light soy sauce
5ml sesame oil
3g salt
10ml Chinese black vinegar (available from Chinese supermarkets and some supermarket speciality aisles)
5g sugar
10g fresh ginger blended with water
20ml water
20g fresh ginger, thinly-shredded then deep-fried until golden
5g sesame seeds
Then follow these simple steps:
1)    Boil the spinach for 3 minutes, then cool it in iced water. Drain, squeeze out any excess water by hand and leave to dry thoroughly on kitchen paper.
2)    In a bowl, mix together the light soy sauce, sesame oil, Chinese black vinegar, sugar, fresh ginger blended with water and the additional water.
3)    Add the spinach to the bowl and mix together with the dressing.
4)    In a small dry frying pan over a medium heat, gently toss the sesame seeds until they are toasted (it is very important not to burn them, they will taste bitter!)
5)    Place a 3" deep ring-mould in the middle of a serving dish and fill with the dressed spinach, pressing down to form a cylinder which holds its shape when the mould is removed.
6)    Pour over any remaining dressing from the bowl, sprinkle the spinach with sesame seeds and top with the deep-fried ginger.
We hope that you will enjoy making, and more importantly eating, this dish at home, and look forward to making it for you on your next visit to Hutong!